Online Master of Science in Data Science
Unlock the potential of data and solve the world's most complex problems. The Tufts University online MS in Data Science (MSDS online) can help you build the in-demand skills needed to lead technical innovation.
MSDS Online Program Benefits
Data science has the potential to solve the most complex global issues and shape our lives in ways we are only beginning to understand. The Tufts online Master of Science in Data Science program will prepare you for a high-demand career in data science, data analysis, and data-centric problem-solving across a variety of industries. You will:
Master data mining, machine learning, Python, and systems analysis.
Become an efficient problem solver through hands-on data collection, interpretation, and communication.
Gain marketable skills and prepare to lead at the intersection of data and decision-making.
Earn an interdisciplinary data science master's degree online in as few as two years.
Disentangle Data. Determine Solutions. Deliver Outcomes.
Solve complex issues and drive decision-making with the Tufts MS in Data Science.
REQUEST INFORMATION
Key Dates & Deadlines
Take a look at upcoming application deadlines and semester start dates for the online MS in Computer Science, online MS in Data Science, and online Post-Baccalaureate Certificate in Computer Science. Spring, summer, and fall cohorts are available.
Spring 2024
Priority Submit Deadline
September 11, 2023
$85 application waiver available.
Early Action Deadline
October 2, 2023
Early Decision Deadline
October 23, 2023
Final Submit Deadline
November 13, 2023
Tufts MS in Data Science By the Numbers
#3
U.S. News & World Report ranked data scientist as the #3 best job in tech in 2022.
100,000
Gain a supportive global network of over 100,000 Tufts alumni.
36%
U.S. employment in the data science field is expected to grow by 36% from 2021 to 2031.1
MSDS Online Curriculum
Our rigorous, interdisciplinary curriculum includes 10 courses, including a two-course capstone project for a total of 32 credit hours that you can complete in less than two years when you complete two courses per semester.
During your capstone project, you will propose a substantial data science project, carry it through to completion, and give a professional presentation to faculty and peers to demonstrate your conclusions and growth as a data science expert.
Other required courses in the program include:
Probabilistic Systems Analysis
Machine Learning
Data Mining
Big Data
Data Analysis
Data Infrastructure
Learn More
Harness the Power of Data with the Tufts MSDS Online
The Tufts Master of Science in Data Science program will help you gain the skills and credentials to master data, interpret its meaning, and communicate actionable insights. Through the program's rigorous curriculum, you'll be fully immersed in data analysis principles, methods, and practices. From climate to supply chain to healthcare issues, the Tufts data science master's program will equip you with the analytic expertise to guide high-level, data-driven decision-making.
Our interdisciplinary and forward-thinking MSDS online program is administered jointly by the Departments of Computer Science and Electrical and Computer Engineering and features courses from both, along with the Department of Mathematics. Students enrolled in the program benefit from collaborating with their peers and world-class faculty in project-based research and hands-on course work that allow them to apply their knowledge and hone their skills.
MS in Data Science Learning Outcomes
In an increasingly data-driven world, organizations rely on harnessing facts, trends, and statistics to inform better decision-making and more efficient problem-solving. Upon completion of the MS in data science program, you'll be equipped to:
Formulate specific, complex problems using data science tools and practices.
Collect, interpret, and organize data to draw conclusions.
Apply data analysis techniques to determine solutions.
Evaluate solutions to identify risks and potential errors.
MS in Data Science Career Outlook
In an increasingly data-centric world, data science job opportunities are expected to grow 36% by 2031 (U.S. Bureau of Labor Statistics, 2021). The best online master's in data science programs teach students the data analysis techniques they need to enter a market vying for new and ambitious talent prepared to set the standard for future data science careers.
The Tufts Master of Science in Data Science curriculum emphasizes innovation and discovery, preparing you to pursue better job opportunities and research projects, advance within your current organization, and increase your earning potential.
Data Science Jobs
The 100% online data science master's degree from Tufts can set you apart as a highly trained practitioner with the skills needed to move the data science field forward. Possible jobs for MS in Data Science graduates include:
Job Title Data science manager
Job Title Database architect
Job Title Machine learning engineer
Job Title Analytics manager
Job Title Data scientist
Job Title Data engineer
Job Title Statistician
Job Title Database administrator
Payscale, July 2023. Salaries shown above are based on average salaries reported to Payscale as of July 2023. All figures are rounded to the nearest thousand.
Why Choose Tufts University For Your MS in Data Science?
Tufts University is a world-class research institution committed to developing leaders who are advocates for social change. Our collaborative, interdisciplinary environment will empower you to pursue sustainable solutions for global challenges and create a meaningful impact in your professional endeavors. As a Tufts data science student, you will join a community that embraces individuality while fostering collaboration and inclusion.
Our School of Engineering programs connect you to science, the arts, and humanities through transformative, hands-on experiences. We bridge the gap between ideas and real-world impact so you will graduate with the forward-thinking, collaborative mindset needed to become a well-rounded leader.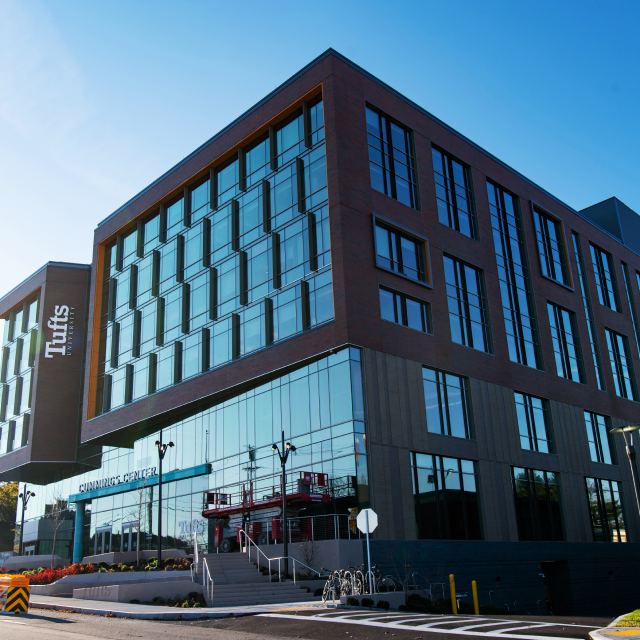 Frequently Asked Questions
The data speaks for itself. The demand for data science jobs is high, meaning compensation offers match the desire for new talent across industries. Many MSDS online graduates earn over $100,000 a year within a few years, so the salary potential with a master's in data science is promising. Beyond monetary gain, earning your data science master's degree online can lead to greater, more diverse career opportunities in a field at the forefront of tech innovation.
As a graduate of the Tufts MSDS online program, you can choose from numerous career paths depending on your interests. From data analysis and architecture to modeling and visualization, you'll have the technical skills to expand your career opportunities and move into management roles. Check out our deep dive into common data science jobs.
Tufts University Accreditation
Tufts University has been continually accredited by the New England Commission of Higher Education (NECHE), one of seven regional higher education accrediting bodies in the United States, since 1929. Tufts is evaluated by and achieves accreditation from NECHE once every ten years. The next year for evaluation is 2023.
1U.S. Bureau of Labor Statistics, 2021.
2The estimated time to complete your degree depends upon the number of credit hours taken each semester.