Tufts University School of Engineering seeks driven individuals with strong analytical skills, an aptitude for math, and an eagerness for innovation to become the next generation of leading data scientists. When evaluating candidates for the online MS in Data Science program, our admissions committee takes a holistic approach to reviewing applications—considering both your academic history and professional experience. Successful candidates will have previous course work in upper-level mathematics, statistics, or data science with a strong GPA in those courses.
Apply Now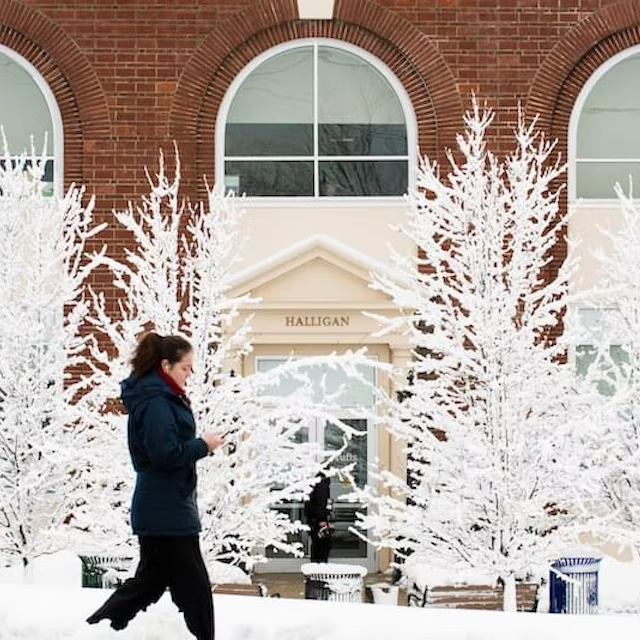 How to Apply
All online Master of Science in Data Science applicants are required to submit the following:
Apply Now
Access the application. An $85 non-refundable application fee is required.
The application fee is waived for:
Current Tufts undergraduate and graduate students.
Students in Tufts certificate programs applying to a degree program.
Tufts degree program alumni.
Current juniors, seniors, or alumni of Lafayette College, Olin College, Union College, Smith College, Wellesley College.
AmeriCorps and Peace Corps volunteers and alumni.
City Year and Teach for America Corps members and alumni.
Currently applying GEM Fellows.
Current Institute for the Recruitment of Teachers (IRT) fellows.
Current Leadership Alliance Members.
Current McNair Scholars.
GRE scores are no longer required for candidates with an undergraduate degree from an accredited U.S. or Canadian institution. GRE scores are required for applicants who don't have a degree from a U.S. or Canadian institution.
Applicants who voluntarily choose to submit GRE scores should demonstrate a favorable quantitative reasoning score, typically in the 90th percentile or higher.
Applicants will be required to upload a copy of transcripts received from each educational institution attended where credit was earned toward an undergraduate, graduate, or professional degree.
Transcripts for study abroad or transfer programs are not required if the course titles, grades, and credit hours are included on the transcript of the degree-granting institution. If the transcript is in a language other than English, an official translation must be provided.
Applicants can upload unofficial transcripts on the Academic History page of the application. If you have trouble uploading the unofficial transcripts, you can email them to: gradadmissions.transcripts@tufts.edu.
Applicants who are offered admission to the online MS in Data Science program will need to have official, sealed transcripts from all degree-granting institutions sent to the mailing address shown below.
Office of Graduate Admissions

2 Bendetson Hall

The Green, Tufts University

Medford, MA 02155
Applicants may have official e-transcripts emailed to gradadmissions.transcripts@tufts.edu.
Three letters of recommendation are required. Current Tufts undergraduate, graduate, and certificate students; alumni of Tufts degree programs; and juniors, seniors, or alumni of bridge schools are only required to submit two letters. Bridge schools include Lafayette College, Olin College, Smith College, Union College, and Wellesley College.
Recommendation letters should be written on official letterhead or containing a written signature by someone who can provide a candid and honest assessment of the applicant's academic background or professional work experience and convey their abilities and character.
Applicants are required to write a personal statement that details their reasons for wanting to pursue their Master of Science in Data Science online at Tufts. The personal statement should be limited to five pages (2,500 words).
A résumé or CV must be provided. Please include dates and an overview of academic history, employment, academic honors, scholarships, publications, community involvement, volunteering, internships, and other activities.
Official TOEFL, IELTS, or Duolingo Test Scores for Non-Native Speakers of English
Applicants who are non-native English speakers are required to take the Test of English as a Foreign Language (TOEFL), the International English Language Testing System (IELTS), or the Duolingo English Test.
You can register for the TOEFL online. Use Tufts University code: 3901. Student copies or photocopies of TOEFL/IELTS scores are not accepted.
Applicants who satisfy one or more of the following conditions are not required to provide a TOEFL/IELTS score:
Have citizenship in Australia, Canada (except Quebec), Great Britain, Ireland, New Zealand, Guyana, an Anglophone country of Africa, or an English-speaking country of the Caribbean.
Earned a college or university degree in the U.S. or in one of the countries listed above, prior to submission of the Tufts online MSDS application.
Are currently enrolled as a full-time student in a U.S. degree-granting program or at an English-speaking school in one of the countries listed above. Applicants must have successfully completed two consecutive full-time academic years of college or university work prior to the date of anticipated enrollment in the Tufts online MSDS program.
The minimum required scores are:
TOEFL: 90
IELTS: 6.5
Duolingo: 110
Degree Evaluations
Applicants that have completed a degree outside of the United States must have a course-by-course evaluation of their transcript(s) completed by an evaluation company approved by the National Association of Credential Evaluation Services (NACES). Review the complete list of NACES-approved evaluators. Submission of falsified documents is grounds for denial of admission or dismissal from the university.
Student Visas
We are not able to provide F-1 student visas nor the associated Optional Practical Training (OPT) for our online programs. Please visit the Tufts International Center for information about joining a program on campus that may offer these options.
While not required, applicants are encouraged to submit a video presentation (two minutes maximum) of their own design, product, or conducted research to demonstrate to the admissions committee their interests and skill sets.
Non-native English speakers are encouraged to submit a digital portfolio to demonstrate their English language skills.
Key Dates & Deadlines
Take a look at upcoming application deadlines and semester start dates for the online MS in Computer Science, online MS in Data Science, and online Post-Baccalaureate Certificate in Computer Science. Spring, summer, and fall cohorts are available.
Visit the Gordon Institute website for MS in Engineering Management dates and deadlines.
Term
Priority Submit Deadline
Early Action Deadline
Early Decision Deadline
Final Submit Deadline
Spring 2024
September 11, 2023
$85 application waiver available.
Frequently Asked Questions
No, but most successful applicants have a degree in a STEM field with significant math experience.
For the MS in Data Science, students should have taken Calculus 1 and 2, linear algebra, and statistics with a minimum grade of a B-. Experience with Python is preferred.
There is no minimum GPA required, but our most competitive applicants have over a 3.0. For those with a GPA below a 3.0, an optional statement addressing your undergraduate GPA is recommended.
We apply a holistic approach to our admissions process and consider undergraduate GPA, professional experience, letters of recommendation, and other application materials when making a decision. Applicants with a strong programming background, coding experience, and an aptitude for math are more competitive.
The admissions committee considers both your academic history and professional experience. If you lack experience in data science, you can still show your strong mathematical aptitude through previous coursework in upper-level mathematics, statistics, or data science to round out your application.
No, online students are not eligible for the OPT program.
No, you will receive the same diploma as students who graduate from the on-campus program.
Yes, there are live Zoom classes held twice a week in the evenings. Students will have the opportunity to interact with faculty members and classmates during this time.
No, a thesis is not required. Instead, students will complete a capstone project during their final semester.
Students are encouraged to apply to the program modality that best suits their needs. If a switch is needed before the start of the program, it will have to be approved by the student's academic advisor.
It is possible to transfer up to six credits. This is determined on a case-by-case basis after a student is admitted.
Upcoming Events
Application Workshop Webinar – Online Programs
Wednesday
October 11
,

2023
07:00 PM ET
Why Tufts Online? School of Engineering Program Overview Webinar
Wednesday
November 1
,

2023
07:00 PM ET