Solve the World's Toughest Problems through Data
Data science has the potential to solve the most complex global issues and shape our lives in ways we are only beginning to understand. The Tufts online Master of Science in Data Science (MSDS) program will prepare you for a high-demand career in data science, data analysis, and data-centric problem-solving across a variety of industries. Through the program's rigorous curriculum, you'll be exposed to state-of-the-art ideas and be fully immersed in data analysis principles, methods, and practices. From climate to supply chain to healthcare issues, the MSDS program will equip you with the analytic expertise to guide high-level, data-driven decision-making and look for actionable insights that could make a difference in the world.
Our interdisciplinary and forward-thinking MSDS is administered jointly by the Departments of Computer Science and Electrical and Computer Engineering and features courses from both, along with the Department of Mathematics. Students enrolled in the program benefit from collaborating with their peers and world-class faculty in project-based research and hands-on course work that allow them to apply their knowledge and hone their skills.
By the Numbers
#3
U.S. News & World Report ranked data scientist as the #3 best job in tech in 2022.
100,000
Gain a supportive global network of over 100,000 Tufts alumni.
36%
U.S. employment in the data science field is expected to grow by 36% from 2021 to 2031.*
* U.S. Bureau of Labor Statistics, 2023.
Is the Tufts Online MSDS Program Right for You?
In the online MS in Data Science program, you'll learn to evaluate data to predict consequences, quantify risks, and avoid misinterpretations. You'll also develop knowledge and skills within the following areas of data science:
Probabilistic systems analysis
Data mining
Data infrastructure
Machine learning
Big data
Data analysis
Course Work Overview
The program's interdisciplinary course work is designed to set you apart as a highly trained practitioner with the skills needed to move the data science field forward and it is delivered 100 percent online. Composed of 10 courses, including a two-course capstone project, the program has a total of 32 credit hours that can be completed in less than two years.* For the capstone project, you will be asked to propose a substantial data science project, carry it through to completion, and give a professional presentation to faculty and peers that demonstrates what you've learned. Other required courses in the program include:
Probabilistic Systems Analysis
Introduction to Machine Learning and Data Mining
Big Data
Learn More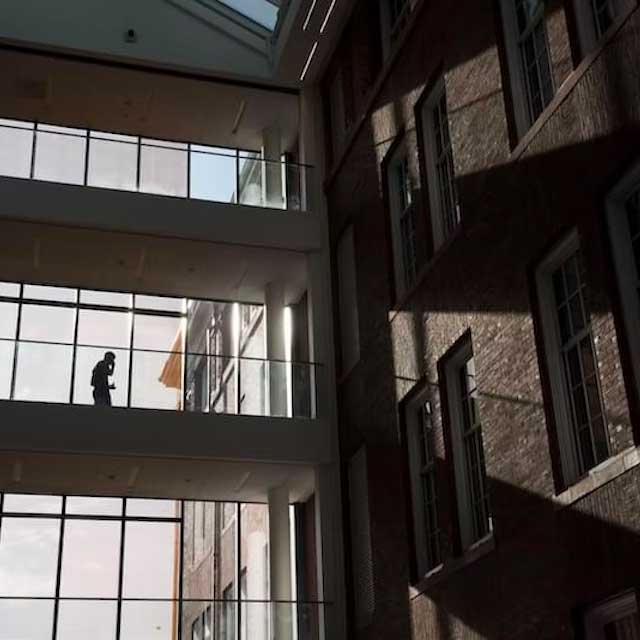 *The estimated time to complete your degree depends upon the number of credit hours taken each semester.
Tufts Online MS in Data Science Faculty
Learning Outcomes
In an increasingly data-driven world, organizations rely on harnessing facts, trends, and statistics to inform better decision-making and more efficient problem-solving. Upon completion of the MSDS program, you'll be equipped to:
Formulate a problem in terms of data science tools and practices.
Collect and clean data to solve a problem.
Apply an analysis technique to get an answer.
Evaluate the answer in terms of risks and potential errors.
Career Opportunities with an MS in Data Science
The online MSDS program is designed for students who are seeking to gain the skills and credentials that will create a path for them to pursue new job opportunities and research projects, be promoted within their current organization, and increase their earning potential. Possible jobs for MS in Data Science graduates include:
Job Title Database Administrator
Job Title Statistician
Job Title Data Engineer
Job Title Data Scientist
Job Title Analytics Manager
Job Title Machine Learning Engineer
Job Title Database Architect
Job Title Data Science Manager
Payscale, February 2022. Salaries shown above are based on average salaries reported to Payscale as of February 2022. All figures are rounded to the nearest thousand.
Key Dates & Deadlines
Take a look at upcoming application deadlines and semester start dates for the online MS in Computer Science, online MS in Data Science, and online Post-Baccalaureate Certificate in Computer Science.
Visit the Gordon Institute website for MS in Engineering Management dates and deadlines.
Term
Priority Submit Deadline
Early Action Deadline
Early Decision Deadline
Final Submit Deadline
Summer 2023